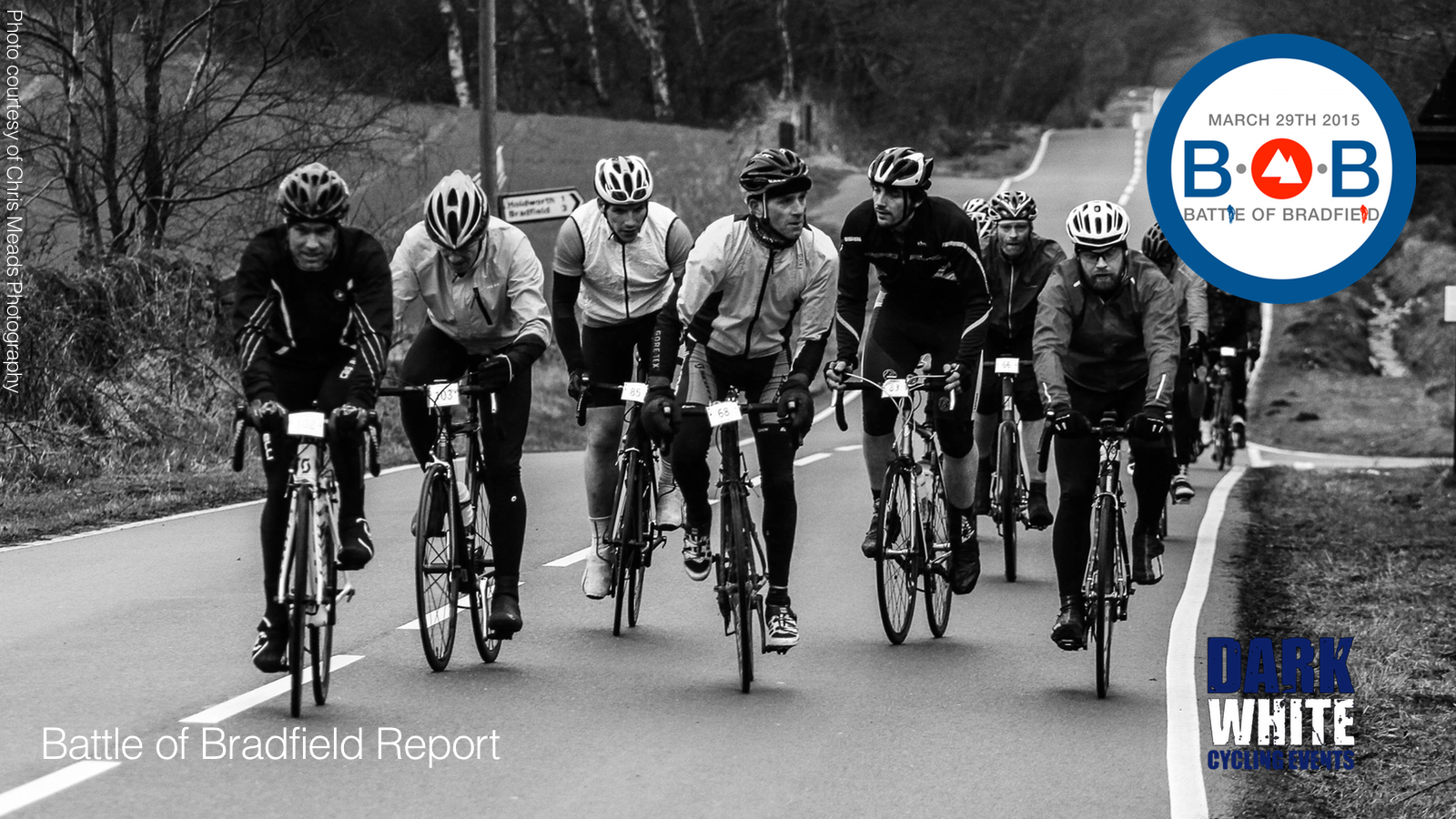 Short but tough!
Despite the somewhat dubious weather forecast 180 riders took to the hills in South Yorkshire for the first Dark & White sportive of the year. Starting from Stannington the longer route of 63km including 10 categorised climbs with total ascent in the order of 1700m went anti-clockwise and took in Worrall, Oughtibridge, Midhopestones and Broomhead Moor before a feed station/control stop at Edge Mount. Heading west again the riders looped round to the iconic climbs of Low and High Bradfield before the final push up (literally in some cases!) from Damflask Reservoir via Dungworth and back to the finish.
The shorter 33km loop with four climbs (ascent totalling approx 850m) was condensed within the southern half of the long route but still included some stiff/thigh burning climbs.
Whilst the weather conditions weren't perfect, it wasn't that bad considering it was the end of March and it could quite easily have been a lot worse particularly up on the higher more exposed moorland sections. The road surfaces in general in this area are brilliant for cycling and for this we have to give great credit to the authorities for all the work they did in preparation for the Tour in 2014 – we should now ensure that we use these roads and lanes to the full in the coming Spring/Summer months!
Rider times | see here for all riders times (including split times at the feed station).
Event Registration delays | we apologise for any initial hold up at registration, the hall caretaker forgot to change his clock causing a wee bit of stress to us at the outset….
Event photos | once again Chris Meads has come up trumps with some brilliant shots – click here to view/buy
Beat The Bonk feed station – thanks to Tori and Claire for supplying event nutrition as well as helping to run the feed station. Their thoughts (once they had thawed out!):
"Our first time providing nutrition at a sportive was a great success with many riders commenting on how good it was to see a variety of products. Despite the weather, most seemed to be in good spirits at the feed station and we just hope that the guy who rode off saying that he was going home to sell his bike did end up enjoying it and will keep on riding!  All the nutrition seemed to go down well but the outstanding success was the Total Fruit Cake – it's available on our website at £2 a slice or £28 per box click here. We hope to see most if not all of you again at one or more of the Dark & White sportive events."